Data Security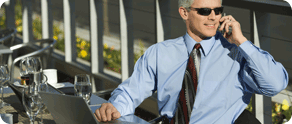 Are your backup tapes stored in a drawer next to your computer?
If your business is like 80% of small businesses, you know you need to do backups, but you may not doing your backups properly. Many people put their business at risk by storing backup tapes where they can be destroyed by a disaster right along with their computers.
RBackup can save your business by automatically storing the data you depend on securely and safely offsite every day. With RBackup your data (and your business) can survive a disaster, even if your building and computers cannot.
RBackup is insurance for your data. Start protecting your business today.
Advanced Protection for Business Data
Full Server Starting at only $3500/month
Other backup plans available click here
RBackup Business Edition has the features you look for in a powerful, proven backup solution for your business PCs and Servers.
RBackup Business Edition is the most mature, feature-filled Online Backup product on the market. It is in use in more than 68 countries, backing up more than 1.5 million PCs daily.
Back It Up NOW
Open Files

Exchange

SQL Server

Active Directory

System State

Sharepoint

File Versioning

HIPAA

Powerful